We love ebooks. They may be rubbish for swatting wasps but they're great in lots of other ways: they're convenient, they're brilliant for travelling and they don't take up much space in your house.
Forget all that stuff about the death of the book: ebooks are giving it a whole new lease of life, providing more ways to read your favourite writers than ever before. From E-ink to LCDs, thin readers to tablet computers, these are the ten ereading devices you need to know about.
1. Amazon Kindle Keyboard 3G – £149
Best ereader for: serious ebook buyers
When Amazon unveiled its latest Kindles, the existing third generation Kindle became the Kindle Keyboard and the Wi-Fi model disappeared. The third-gen Kindle is still our pick, though: it's more comfortable to hold than the newer Kindles and its ergonomics are spot-on. Battery life and storage space are two months and 3,500 books respectively, there's a wee speaker for audiobooks, Read-to-me and tunes, and of course there's Amazon's enormous ebook library and WhisperSync synchronisation with the various Kindle apps. The 3G modem's largely pointless – when have you ever needed a book so badly you couldn't wait until you were near a WiFi hotspot? – but the Kindle Keyboard remains the E-Ink ereader to beat.
2. Kobo eReader Touch – £109
Best ereader for: all-round competence
Kobo eReaders are new to the UK, and they're very welcome arrivals: the eReader Touch is a genuine rival to the new Kindles, particularly the Kindle Touch. It looks better, has a nicer user interface and has a better range of typefaces, and unlike Amazon's touch-screen device you can actually buy one in British shops. If you're considering a Kindle, we'd strongly recommend checking out the Kobo first before you make up your mind.
Ebook readers aren't just about technology, of course: they're about content too, because nobody's going to shell out for an ebook reader they can't get any books for. Kobo's got that covered too: while we found a few gaps in the catalogue, the big hitters were present, correct and no more expensive than Amazon. There's also a good range of apps so you can read your purchases on other devices too.
Read Kobo eReader Touch review
3. Amazon Kindle Wi-Fi – £89
Best ereader for: cut-price Kindling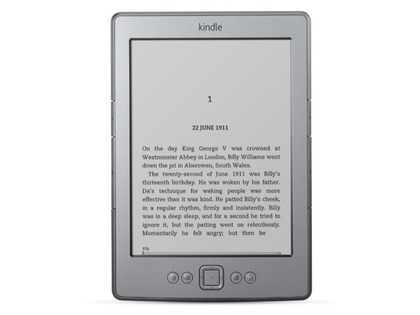 The keyboard isn't the only thing the new Kindle's lost: battery life is down from two months to one, storage is down from 3,500 books to 1,400 and there's no speaker, but the Kindle DNA is intact: the reading experience is perfectly pleasant, you can sync with the various Kindle apps and getting new books is a doddle. As our in-depth review notes, "If you want a straightforward dedicated ereader, it's hard to see past the neat form factor, superb book choice, amazing screen and eye-catching price of the Amazon Kindle."
4. Amazon Kindle Touch – Price TBC

Best ereader for: Kindle fans who'd rather wait for a touch screen
It's not here yet – the US gets first dibs – but we know what we're going to see: a New Kindle without the faintly horrible buttons, with a faintly horrible silvery case and with a nifty touchscreen. The US price is $99, and once tax and other odds and sods are taken into consideration we'd expect a £100ish price here too.
5. Sony Reader Touch Edition PRS-600 – £170
Best ereader for: champion hagglers
Available in black, red and silver, the PRS-600 has the usual six-inch E-ink screen – but unlike many rivals there's no Wi-Fi. The PRS-600 comes in black, red or silver, weighs 215g, and you can expand the 2GB of on-board storage with Memory Stick Duo or SD cards. The battery's good for a fortnight and the device supports EPUB (including DRMed files), PDF, TXT, Word, RTF and BBeB formats. Sony's Reader store is a decent online store and the Reader works with files from other shops such as Waterstone's. You can also listen to music or audiobooks provided they're in MP3 or unprotected AAC formats.
The key selling point here is the touch screen – Sony was one of the first firms to offer a touch-screen E-ink device – but be aware that swiping your fingers around reduces battery life from the claimed 2 weeks. If you're an inveterate fiddler you might want to pack the charger when you travel.
If you fancy one, haggle hard: new Sony e-readers will be here in a matter of weeks.
Sony PRS-650 Reader Touchreview
6. Sony Reader Pocket Edition PRS-350 – £140
Best ereader for: champion hagglers on tighter budgets
Sony's pocket-sized pal boasts a 5-inch E-ink screen, 2GB of memory and a claimed 2 weeks of battery life. There's no Wi-Fi – you transfer books via USB – and there's no touch screen, but the buttons are nice enough and the aluminium casing comes in silver, pink and black. The PRS-350 supports EPUB (including DRMed ones), PDF, Word, TXT, TRF and BBeB ebooks.
As with its big brother the PRS-600, haggle hard: a new version is imminent.
Hands on: Sony Reader Touch review
7. Elonex 621EB eBook Reader – £90
Best ereader for: people going on really, really long journeys
Specs-wise the 621EB is a fairly bog-standard e-reader – it has a six-inch E-ink screen, weighs 180G, plays MP3s and can store around 1,000 ebooks, or more if you add a 16GB SD card; it supports EPUB, PDF, TXT and HTML and works with Adobe Digital Editions, so you can use it with non-Amazon ebook shops – but the USP here is battery life, with a claimed 3 months between charges. We'd take that with a pinch of salt – at 1,000mAh the battery isn't as powerful as a Kindle 3′s 1,750mAh, which is good for a month or two – but the 621EB is still a reasonably priced, reasonably good e-ink device.
Read our Elonex 621EB eBook Reader review
8. Bookeen Cybook Opus eReader – £70
Best ereader for: really tight budgets
Bookeen's ebook reader keeps things simple, and the price has plummeted: from around £200 last year it's now on sale for £69.99 at Waterstone's. Natively supporting EPUB, TXT, PDF, HTML, JPG, PNG and GIF files, this white reader with rounded edges was doing the keyboard-free thing before Amazon caught on and automatically flips the screen when you turn it on its side. There's no WiFi connectivity so transferring books onto the Opus has to be done manually, but its built-in 1GB capcity can be increased by using a Micro SD card.
9. Apple iPod Touch 8GB – £169
Best ereader for: portability, games and media joy
Apple's iPod may seem an odd choice for an ereader article, but if you don't fancy E-ink then the Touch's retina display offers the best reading experience we've seen on an LCD device. It's not just about Apple's iBooks, either: there are iOS apps for Kindle, Kobo and less well-known players such as Stanza together with a growing number of books-as-apps, although you'd have to be a masochist to attempt reading magazines via Apple's Newsstand app. Factor in the iPod's many other strengths – music, movies, games, iMessage, photos, web browsing, video recording, AirPlay – and the iPod Touch is a serious contender.
10. Blackberry Playbook 16GB -£249
Best ereader for: people who quite fancy a tablet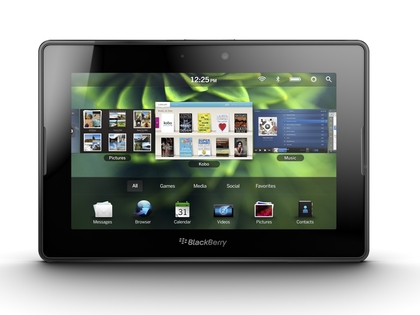 We haven't gone mad: while the Playbook hasn't been the hit many expected, price cutting means at £249 it's well worth considering if you fancy doing your e-reading on a tablet. There isn't a Kindle app but there is a Kobo one, and of course its web browser means that you can use Google's cloud-based ebook store too. The Playbook's seven inches strike the right balance between screen size and portability, and as RIM irons out initial problems it's becoming a pretty nice tablet too. Just ask Amazon: its forthcoming Kindle Fire is essentially a Playbook running Amazon's own software.
Read our BlackBerry Playbook review